I love it when someone talks out loud and gives away great ideas. I like to do that also. It's great how basically anyone outside your head can see things more clearly than you can. And most of the times that's the push you need to understand what you need to do next.
But there's always a but. This time the but is prerequisite. Being open to new ideas goes a long way but alone is not enough. What you need is the ability to be honest to yourself. Even if it hurts. You need to be able to let go of your guard and admit that you cannot do everything by yourself and you don't know it all.
When you see this you'll be able to lose the huge ego that is responsible of so many mishaps, breakups and even wars. Pride is the one thing that will stop your progress when trying to grow as a person. Pride is the enemy and it comes from within.
It takes courage to let go of your pride. You will be humiliated. No. You will feel humiliated which is a totally different thing. No one is there to get you. People are way too busy protecting their own pride to mess with you! Only you can humiliate yourself and if don't feel humiliated there's nothing anyone else can do either.
Do something crazy today that will make you feel like you have been humiliated. Anything will do, the more you anxiety you have towards doing it the better. If you feel really self-conscious about singing do that in the sidewalk during traffic hour. Give yourself just enough time so that people will notice and then walk away without saying anything. Thirty-seconds at high volume should do it. Or do some dumb internet stunt like planking in a busy place.
"It's not like me" is not an excuse. I'll tell you what's like you. After you've done this it's going to be like you to be more open and honest towards yourself. That has value.
What did you do?
Tweet
The world revolves around what and how. Companies revolve around what they do. The first thing you ask an acquaintance is what do you do for a living. You ask a big shot marketer like Seth Godin how do you do it. This blog revolves around it as well - what to do when you get stuck or how to better plan your time.
But people seldom if ever ask why you do something. Kids do that. And it really is a far more important question. So, why does this blog exist?
It exists to help the community around me be more productive. I want the community to be productive and happy so I could be that as well. As the community is more productive it makes me more effective as well - after all, I can't do many things only by myself. Therefore, the more effective I am the more freedom I have to pursue things that make them happy.
Here's where you come to play. Follow my advice and I can guarantee that you will be more effective. What you need to find out is the purpose of having more free time from increased productivity.
I want to be a more effective worker and entrepreneur to have more freedom. And more freedom to me means doing things that I love: learning more about marketing, climbing the cliffs, creating inspiring content, jumping out of an airplane and filling my head with seemingly unimportant details on almost anything.
Now tell me why do you want to be more productive?
If you like the question why read Simon Sinek's book on the subject..
Tweet
There are tons of tasks to be completed every day. Regardless whether you use a productivity system or not. Most of the time when you can tick off a number of items, especially the important ones, you will feel very happy. Like you've accomplished something today. But there are times in life when inbox zero and an empty today list just aren't enough.
I was recently in this situation. With the moving to DC, quitting my job and trying to adapt to a new culture I got a bit lost. There was so much to do. I got it all done. 
And yet, I felt as I never accomplished anything. 
At times like these it seems that I'm in overall chaos with my life. I don't know what to do or where to go. It's no surprise, I've got no job, no prospects - it's just me and my blog. This is where I usually wake up and realized something: I've been here before. 
There's a simple answer to this problem. You need to set high level goals. The goal can be a dream of yours. Or it can be a skill you want. It can be anything you want, all you need to do is imagine. You can be anything you want and you can have whatever you'd like. But there's a catch. 
You need a plan. A goal without a plan is a dream. 
Define yourself a set of goals for a three month period. Or make it six months if you're conservative. Come up with a few things you really want to be, to have or to do. Take two most important ones and go a bit further with them.
For example, if you want to be a good surfer then set a tangible goal like being able to catch a wave five times in a row. Or if you want to learn Finnish, set the goal to be a five minute conversation with Mikko the neighbor in his native language. 
Then you need to go for it. Make the plan. Make it now. Write down the next three steps towards achieving these goals. Make the first step a very important task for your today list.
And sooner than you realize, you'll be riding the waves with your new Finnish friends. Chaos and disorientation is good. It reminds you of the important things that YOU want. 
For more short stories of goodness follow me on Twitter, @raunom.
Tweet
It's now exactly a week from arriving to D.C. On arrival we rented an Outback and headed to Lanham for a pet friendly motel. A day from that the storms began and our inn lost electricity. Way to start our journey in the States. But put everything on the table and finding an apartment was the hardest thing to accomplish as we've got no social security number and no credit history. 
Back to the beginning though. The wife got a job in the States, D.C. and with a very short notice we had to move here. We had an apartment full of stuff in Finland and a cat. Hundreds of kilos of stuff later we're almost fully moved and here's the lesson list for you.
Lesson #1: you've got way too much stuff. Get rid of the 80%. Then take a look at what's remaining and toss another 50%. You just don't use all that stuff you have and it's a burden. I've got a rule now: if you can't consume it in a week or use it at least once a month it's not worth the purchase. There are exceptions such as a winter jacket though. One of them is definitely enough depending on where you live. You will feel relieved and free for a long time for doing this.
Lesson #2: digitalize everything you can. Photos, documents, certificates, receipts, manuals etc and stash one original copy somewhere safe only if required by law such as a military pass. Have all these documents as a local copy on your computer and backed up in a cloud you can access with any computer (such as Dropbox*).
Lesson #3: make a list of the items you use every single day. These are the items that need to be easily accessible while moving or traveling. These are items such as: cell phone + charger, MacBook Air, wallet, passport, deodorant, earphones, toothbrush, Swiss army knife etc. Keep the list up to date so it's ready when needed.
Lesson #4: whatever you do, wherever you go, don't forget to exercise and rest. These are the two things that get neglected first. Don't. They'll keep you happy and healthy. 
Lesson #5: when in a foreign environment do something familiar. This will keep you grounded. 
Lesson #6: get insured. This will make sure nothing actually happens to you.
Lesson #7: do as much as you can with the first week's energy boost. It'll wear down eventually and things tend to get slower. The more you get done in the beginning the better. You'll be exhausted anyway so why not make the most of it.
Lesson #8: reward yourself every once in a while. Do something fun, outrageous or expensive. It'll feel twice as good.
Lesson #9: there will be late nights and early mornings. Deal with it. You will get that rest time in just a second. Do what it takes to get it done and give yourself deadlines. The shorter the better. E.g. get all the furniture sold by the end of the week and dump the rest.
Lesson #10: this is the most important one. Keep eating and keep hydrated. You don't want to get hungry while moving or traveling. You'll get some extra fat for all that processed food but you'll get it off as soon as you return to your regular lifestyle with no extra effort. So eat and enjoy what you eat. 
* If you sign up to Dropbox using my link I'll be getting 500MB more free storage. Thanks. http://db.tt/ugBG99oj
Tweet
What do you want to be when you grow up? What's the career for you? A career is something that is often thought to be for life. Looking at the world around us, however, I can determine that career change isn't that difficult anymore. There is so much information available and if you're a quick learner you can do pretty much anything. For some this is a blessing and for others a frustration. 
What to become if there are so many options? What is the right career path for you?
Study Hacks wrote an article on career building (http://calnewport.com/blog/2011/08/11/the-career-craftsman-manifesto/). It is a manifesto of a career craftsman. A great article – you should go read it now. It really is a prerequisite. Because I'm about to disagree with it.
According to the article there is no such thing as becoming happy by following your passion. It is a childish thing to say. This, and only this, is where I totally disagree with the article. That makes it a bit contradictory. 
Being happy anywhere, including work, is about enjoying what you do. It's about enthusiasm. And to find the things you enjoy the most, self exploration is needed. You might enjoy a lot of things. You probably can't even do all those things you enjoy so you are forced to choose. Which ones are the ones that are the most valuable and provide you with the most enjoyment?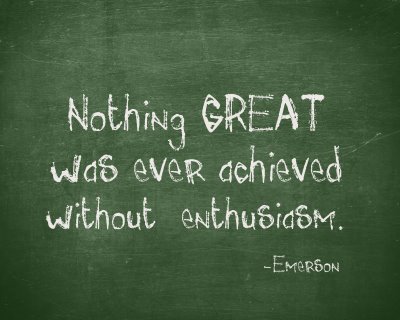 The source of enjoyment will change over time. This is why it is so important to revisit your head from time to time. I tend to do this every three months and change my dream map according to that. Life is way too short to spend by doing half ass stuff.
Remember that you only live in the present. Go for that career but every now and then stop and ask yourself: "is this really what I want to do or is this something the society/friends/family want me to do?"
Tweet